Back Pain Treatment at Miami Valley Spine and Injury Chiropractic
Back pain is one of the most common reasons for missed work. In fact, back pain is the second most common reason for visits to the doctor's office, outnumbered only by upper respiratory infections.
Upper Back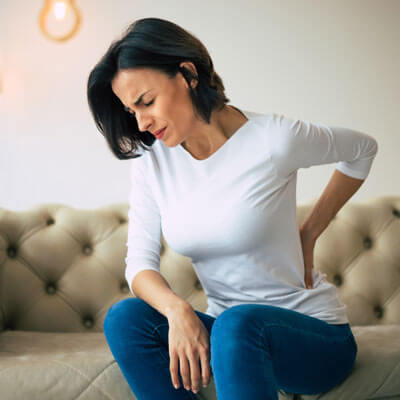 The upper part of your back, known as your thoracic region, is a common source of pain. It can be a primary or secondary source, chronic or acute in nature. Thoracic pain can be a primary source of pain when a postural imbalance such as scoliosis causes the joints to work improperly, creating pain and inflammation through poor mechanics.
Thoracic pain can be a secondary cause of pain from conditions like Forward Head Posture, which causes muscle strain and excess force on your spine. This is common when people look down a lot for work or using electronic devices. This sort of pain becomes chronic over time, especially when your job requires that particular activity.
Acute pain can be caused from a fall, an auto collision or even yard work. These scenarios can damage the muscles, tendons, and ligaments, as well as cause the joints to move improperly.
Lower Back
The majority of Americans have had lower back pain sometime in their life. According to the Global Burden of Disease 2012, lower back pain is the single leading cause of disability worldwide.
As many studies have shown over the years, chiropractic care is the most effective way to manage low back pain. By looking at the biomechanics of your spine, Dr. Ferguson can help determine the cause of your back pain.
Correcting the Problem
Through talking with you, performing orthopedic and neurological testing, taking X-rays to evaluate your biomechanics and ordering MRIs when needed, Dr. Ferguson of Miami Valley Spine and Injury Chiropractic is able to zero in on the root of your problem.
With that knowledge, he can establish a program of correction that may include chiropractic care, core stabilization exercises, pain reducing therapies, or even refer you out to one of the neurologists or orthopedic surgeons he has a relationship with if that's what you need.
Take the First Step
Contact us today to schedule an appointment for your back pain.
---
Back Pain Treatment Beavercreek OH | (937) 426-0777