New Patients at Miami Valley Spine and Injury Chiropractic
Getting started with care at Miami Valley Spine and Injury Chiropractic is convenient—we offer our new patient paperwork online, so you can complete it at your convenience at home. We also ask that you wear comfortable clothing that allows you to move around modestly for your exams.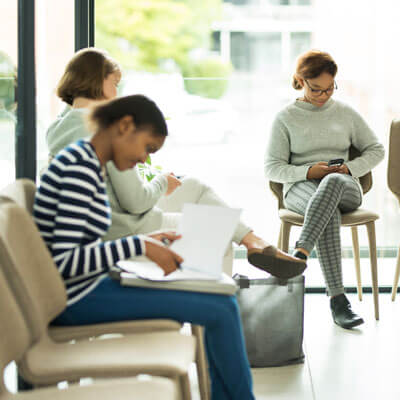 ONLINE FORMS »

Your First Visit
When you enter our office, our front desk staff will expect you and greet you by name. They'll get your insurance information and verify coverage for you. Next, you'll meet with Dr. Ferguson, who will delve into your health history—some patients jokingly refer to it as a "health care interrogation" because it's so thorough.
Based on your history and complaints, we will conduct an in-depth orthopedic and neurological examination. We will also be looking for any conditions that may need to be referred out for treatment. We will explain everything as we go along, so you understand what's happening and the entire process. We will generally refer you for some type of imaging, which may include X-rays, motion X-rays, MRI or CT scan.
This first visit takes about one hour.
Your Second Visit
At your second visit, we will review your condition and the results of your exams and imaging. We will always tell you four things:
what's wrong
whether we are the right place for care
how long it will take to get better
how much it will cost
This visit is also about an hour, and you will receive an adjustment and any other modalities for your condition at this visit.
Helping You Get the Care You Need
We are in-network with most insurance, including Medicare and Medicaid. We accept Family Plans, Care Credit, ChiroHealthUSA and all major credit cards. You can also use your health savings account (HSA).
If you've been injured in an automobile collision, we can also help with referrals to other providers, as well as resources, such as attorneys.
Contact us today to learn more or schedule your first appointment.
CONTACT US »
---
New Patients at Miami Valley Spine and Injury Chiropractic | (937) 426-0777